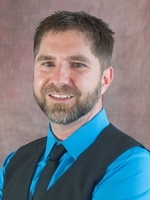 Hello my name is Donnie Tompkins. I'm originally from Pittston, PA and a proud graduate of Pittston area. I went onto Keystone College where I received a degree in liberal studies with emphasis on education and received my Real Estate credits from The Pennsylvania Real Estate Academy.
With a passion for travel and the desire to see and explore the great USA I was fortunate enough to live in three other states other than PA: Myrtle Beach, SC, Tempe, AZ and Atlantic City NJ. I moved back to PA about 15 years ago and have worked at Mohegan Sun since its opening. I currently live in Taylor, PA with my wife, Amanda, and 2 children, Tyler and Colson.
I'm now a real estate agent who's honored to be affiliated with Century 21 Smith Hourigan Group out of the Mountain Top location.
Let me be the first to tell you, with all the traveling I've done and the places I've lived, there's no place like home so let me be the one to help you find yours.